'Art' music from a steel band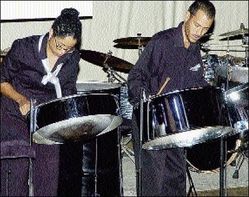 Think steel band music and you think calypso and soca. That's true of most people, most of the time.
But those two types of music are not the only ones that can be played by the instruments created, originally, from oil drums. In the right hands, the steel band may be a purveyor of "art music" - which is sometimes, and less accurately, called "classical" music or, more judgementally, as "serious" music.
On Sunday night, the instruments of the UWI Panoridim Steel Orchestra were definitely in the right hands, and the ensemble convincingly presented a recital titled The Art of Steel: Caribbean Composers, Caribbean Instrument, Caribbean Art, at the Philip Sherlock Centre for the Creative Arts, at Mona. The "art" in the title referred both to the type of music played, as well as the artistic photography which accompanied and complemented the music.
Projected onto three screens suspended above the stage, the photographs were the work of one of the pannists, Diallo Dixon. They included nature scenes, abstract pictures, the details of musical instruments or plant produce, and people variously occupied.
Varied moods
For the most part, the music was not light-hearted, as pan music tends to be. That is not to say it was always solemn, though some of it was. At other times, the adjectives slow, meditative, abstract, complex and poignant would be more precise.
The final item, Samaroo's Festival of Voices, however, was definitely joyous. It was a tune you could jump to as you travelled the campus' Ring Road.
The one constant throughout the varied moods invoked was that the playing was excellent. The leading players were Gay Magnus and David Aarons, both of whom have years of experience in music as well as first-class honours degrees in the art. Other pannists were Krystle Stennett, Rory Mitchell, Mark Hylton and Bianca Welds.
As the long title suggests, the composers are all from the region: Lodovic Lamothe (Haiti); Magnus, Aarons and Eleanor Alberga (Jamaica); Leo Brouwer (Cuba); and Liam Teague, Lord Kitchner and Jit Samaroo (Trinidad and Tobago).
Delightful work
There was a special addition to the pan music programme. The evening also was used to launch the world premiere of a delightful work by Peter Ashbourne, a homage to the late Jamaican patriotic song composer, Clyde Hoyte. Ashbourne (on violin) led his ensemble The Pimento Players (Beatriz Pozuetta - violin, Ann McNamee - viola, and Emily Elliott - cello) in a four-minute arrangement of Hoyte's well known song O'er Our Blue Mountains.
(Read more: Jamaica Gleaner)