David Aarons, the complete pannist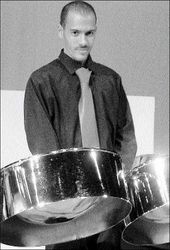 Michael Reckord, Gleaner Writer
Few musicians are such masters of their art that they not only play, compose and teach music, but also make their musical instrument. David Aarons is one of the few.
Ironically, he began his musical career with reluctance.
The story of his transformation from a foot-dragging piano student to dedicated pannist (one who plays the steel pan), arguably, has as its moral, "Parents know best."
When he was nine years old (in 1996), Aarons told The Sunday Gleaner, he was instructed he should begin piano lessons.
At the time, he admitted, "I never had, or showed, the slightest interest in the piano, but my parents decided that it would be good for me to take lessons. I went to these lessons dragging my feet for a few years until I gradually began to open up to them."
Momentous decision
His interest in music turned to devotion when he discovered the steel pan and it continued to grow until February 2005, when he made a momentous decision - music would be his career. His life then began snowballing.
Aarons now has a first-class honours bachelor's degree in musical arts (the steel pan being his primary instrument) from the University of the West Indies (UWI), St Augustine, Trinidad and Tobago; is an experienced performer, having played in several leading steel bands during the three years he lived in Trinidad as well as with steel bands in Jamaica; is now a lecturer in steel pan music at the Edna Manley College for the Visual and Performing Arts; and, additionally, makes and tunes pans for various steel bands in Jamaica.
He also composes music for the steel pan. His work, Likkle Dancehall Fugue in D Minor, was one of the more enjoyable items played at the UWI Panoridim Steel Orchestra at last month's recital, The Art of Steel, at the Philip Sherlock Centre for the Performing Arts, UWI, Mona.
His interest in composition began when he was 12 and attending St Andrew Parish Church. He recalled: "I saw someone playing the steel pan at my church and decided that if I ever got an opportunity to play it I would. I thought it was such an interesting instrument and I think the mystery of it drew me in."
(Read more: Jamaica Gleaner)