Jamaica's Panoridim competes in International Panorama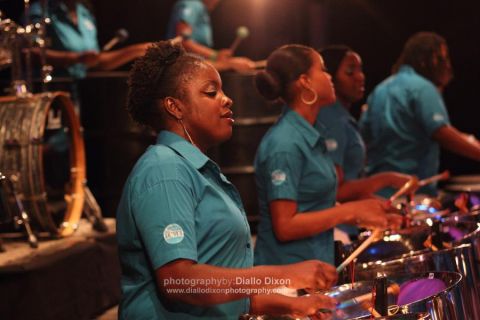 In August, steelbands from all over the world will converge in Trinidad for the first ever International Panorama Competition. Steelbands will compete against twelve of Trinidad & Tobago's best bands to walk away with the title of International Panorama CHAMPION. The competition is organized by PanTrinbago, the governing body for steelpan based in Trinidad.
After having originated in Trinidad as a major highlight of their carnival season, the model of the Panorama competition has spread far and wide. Similar competitions are held in many Caribbean islands including St. Vincent & Grenadines and Barbados, and in parts of the USA, most notably in Brooklyn, New York. Jamaica, despite having many steelbands associated with churches and schools, has not yet adopted any form of steelpan competition.
However Jamaica's UWI Panoridim Steel Orchestra, with panyard on the UWI Mona campus, is recognized by PanTrinbago and has competed twice in the World Steelband Festivals hosted in Trinidad, receiving a third place trophy for their Quartet entry in 2000. Panoridim is the longest-running and largest steelband in Jamaica, and is the only band most similar in size, style and function to the medium bands in Trinidad & Tobago. With support from the University of the West Indies and Panoridim's corporate sponsor ICWI Limited, the band will be representing Jamaica at the international Panorama Competition on August 9.