Panoridim Performs at Lymelight 2006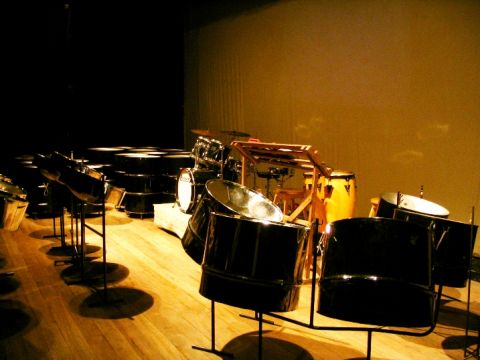 LYMELIGHT 2006, produced by the Philip Sherlock Centre for the Creative Arts (PSCCA), University of the West Indies, and staged in its theatre, presented quite a few aural and visual pleasures on Tuesday night.
Lymelight has become an annual fund-raising event for the PSCCA, and though with the medium-size audience which turned out to Tuesday night's show one wonders how much funds were raised, the night certainly had much talent to offer.
Most of the talent on display came from the societies associated with the centre: The University Dance Society (UDS), Camera Club, University Dramatic Arts Society (UDAS), University Singers, Panoridim Steel Orchestra and University Chorale. The mix allowed for a blending of the arts so that Lymelight offered up both the performing arts through music, dance and drama, as well as the visual arts through photography.
GREAT PERFORMANCE
The University Singers delivered a delightfully varied performance through two medleys. The singers first engineered a rollicking fun trip through disco land with the likes of Love Train and Ain't No Stopping Us Now. The group then switched tracks and slowed down the journey slightly with hits from Ziggy Marley and the Melody Makers.
Without missing a beat or a step, they then switched to tracks from dancehall in a well choreographed and well-sung performance. At the end, they easily earned the 'thunderclap' they had just sung of as the audience showed their appreciation.
Panoridim was in charge of setting the mood for the lyme before the show started and during the intermission, which is the signature element of Lymelight - an intermission where the entertainment keeps flowing.
(Read more: Jamaica Gleaner)