Pans sang in Kingston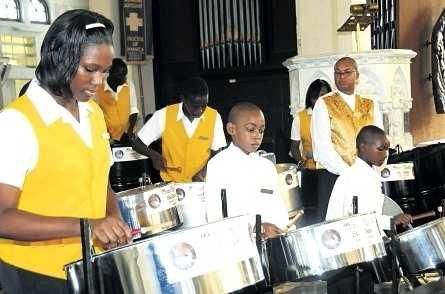 Jamaica Observer | 9 Nov 2011
The congregation attending the Pan Extravaganza at the Kingston Parish Church on Sunday was treated to a holistic musical feast that covered the spectrum from classical through religious, ballads, reggae and soca music, satisfying every taste.
The two-hour presentation featured steel orchestras of Musical Apostles, Stella Maris and Bethel Steel ensemble who delighted the highly appreciative audience with quite an entertaining repertoire of rich musical offerings.
Songs of praise such as Jesu Joy of Man's Desiring and Shine Jesus Shine performed by the Musical Apostles. How Great Thou Art featuring Vincentian soloist Reajhaun Baptiste and Here I Am to Worship was presented by Bethel Baptist. The Stella Maris ensemble delivered What A friend we have in Jesus, Wings of A Dove as well as a folk medley including the popular Evening Time provided the first half with impeccable musical renditions.
Following the intermission, patrons were taken down memory lane with timeless melodies by the steel orchestras. Many persons swayed and sang along with The Apostles as they played a series of popular vintage numbers including the Perez Prado-composed jazz standard Cherry Pink and Apple Blossom White which, for this occasion, was arranged by Dwight McBean the Papa San's composition Hail Him Up with arrangement by Allison McCoy-Johnson, and Michael Jackson's Bad which were delivered in an amazing fashion.
Not to be left out was the Stella Maris group's take on Save the Last Dance, In the Mood, to which Glen Miller would nod approvingly, so too Lord Kitchener for Anthony Williams's arrangement of his hit Mama Dis Is Mass. The finale featuring all the bands on the Noel Dexter's arrangement of Psalm 150, which brought the curtain down on an evening of quality music.
— Basil Walters
Read more: http://www.jamaicaobserver.com/entertainment/Pans-sang-in-Kingston_10127060