Settling the Score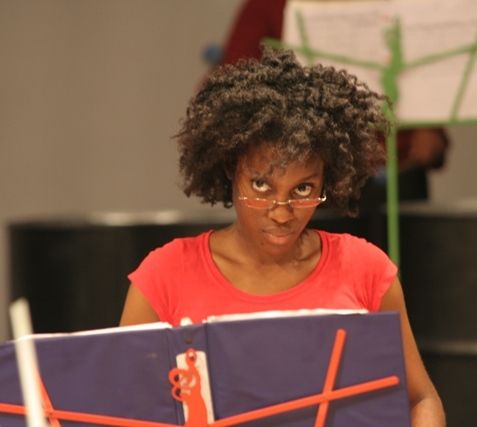 Music theory is an important part of mastering music on any instrument. The band has made a shift over its 30+ years from teaching by ear (that is, having the arranger play his pan and say the notes that should be played) to issuing sheet music (scores) to sections for them to learn the music from the paper. Almost all Panoridim arrangers now arrange and teach through the latter method, and music stands and scores have now become standard fare in the panyard. This means that more and more pannists need to be familiar with musical notation and music reading in order to keep up with the fast pace of the arranger's teaching.
Formal sections of practice started being dedicated to fun learning of music theory fundamentals in the first semester of 2010 through the (then) music director, Keiran King. Current music directors Aleiya Virgo-Herron and Gay Magnus have maintained tid-bits of music theory during rehearsals since then, and have now dedicated part of Saturday rehearsals to sight reading practice and interesting musical experiments, which engages all levels of players.
Feel free to pass by the Panyard on Saturdays at 6pm to hear the progress of the band as they play their music straight from the score.