Blog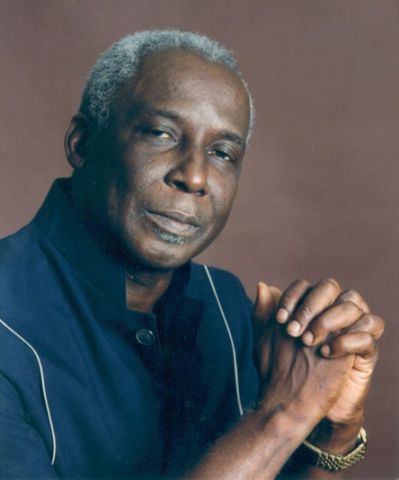 Photo: Ralston Milton 'Rex' Nettleford
Mel Cooke, Gleaner Writer
Some time after, 'Rex N: A Celebration', had begun last Thursday evening in the Oriental Gardens, University of the West Indies (UWI), Mona, Principal Gordon Shirley set the context for the university's marking of Rex Nettleford's passage through life.
Shirley said that Nettleford would be celebrated through the spoken word, music, theatre and dance, the late professor's great loves.
Anything more than a cursory examination of Nettleford's life is bound to be long and Thursday's comprehensive celebration was duly so. So the performances served a dual purpose, injecting entertainment between the many tributes - themselves engaging insights into Nettleford's multi-faceted life - as well as allowing performing groups (many of which he was personally involved in) to pay him homage. Professor Mervyn Morris, himself an outstanding poet, was the evening's narrator, while images of Nettleford from various stages of his life were shown on big screen.
Appropriately, then, after the UWI Panoridim Steel Orchestra's musical ushering of those who came to celebrate Nettleford - a substantial number, but still far fewer than seating was provided for - an ensemble from the hall named in his honour was the first to give their respect in an arrangement of Hero.
The Jamaica Folk Singers were upbeat with tambo songs, and Nettleford's lifelong connection with the arts was underscored by Brian Johnson's performance of Bassiano's Speech from The Merchant of Venice . Nettleford had played that role in the first secondary schools' drama festival.
(Read more: Jamaica Gleaner)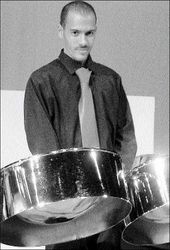 Michael Reckord, Gleaner Writer
Few musicians are such masters of their art that they not only play, compose and teach music, but also make their musical instrument. David Aarons is one of the few.
Ironically, he began his musical career with reluctance.
The story of his transformation from a foot-dragging piano student to dedicated pannist (one who plays the steel pan), arguably, has as its moral, "Parents know best."
When he was nine years old (in 1996), Aarons told The Sunday Gleaner, he was instructed he should begin piano lessons.
At the time, he admitted, "I never had, or showed, the slightest interest in the piano, but my parents decided that it would be good for me to take lessons. I went to these lessons dragging my feet for a few years until I gradually began to open up to them."
Momentous decision
His interest in music turned to devotion when he discovered the steel pan and it continued to grow until February 2005, when he made a momentous decision - music would be his career. His life then began snowballing.
Aarons now has a first-class honours bachelor's degree in musical arts (the steel pan being his primary instrument) from the University of the West Indies (UWI), St Augustine, Trinidad and Tobago; is an experienced performer, having played in several leading steel bands during the three years he lived in Trinidad as well as with steel bands in Jamaica; is now a lecturer in steel pan music at the Edna Manley College for the Visual and Performing Arts; and, additionally, makes and tunes pans for various steel bands in Jamaica.
He also composes music for the steel pan. His work, Likkle Dancehall Fugue in D Minor, was one of the more enjoyable items played at the UWI Panoridim Steel Orchestra at last month's recital, The Art of Steel, at the Philip Sherlock Centre for the Performing Arts, UWI, Mona.
His interest in composition began when he was 12 and attending St Andrew Parish Church. He recalled: "I saw someone playing the steel pan at my church and decided that if I ever got an opportunity to play it I would. I thought it was such an interesting instrument and I think the mystery of it drew me in."
(Read more: Jamaica Gleaner)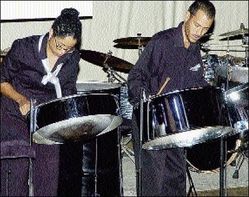 Think steel band music and you think calypso and soca. That's true of most people, most of the time.
But those two types of music are not the only ones that can be played by the instruments created, originally, from oil drums. In the right hands, the steel band may be a purveyor of "art music" - which is sometimes, and less accurately, called "classical" music or, more judgementally, as "serious" music.
On Sunday night, the instruments of the UWI Panoridim Steel Orchestra were definitely in the right hands, and the ensemble convincingly presented a recital titled The Art of Steel: Caribbean Composers, Caribbean Instrument, Caribbean Art, at the Philip Sherlock Centre for the Creative Arts, at Mona. The "art" in the title referred both to the type of music played, as well as the artistic photography which accompanied and complemented the music.
Projected onto three screens suspended above the stage, the photographs were the work of one of the pannists, Diallo Dixon. They included nature scenes, abstract pictures, the details of musical instruments or plant produce, and people variously occupied.
Varied moods
For the most part, the music was not light-hearted, as pan music tends to be. That is not to say it was always solemn, though some of it was. At other times, the adjectives slow, meditative, abstract, complex and poignant would be more precise.
The final item, Samaroo's Festival of Voices, however, was definitely joyous. It was a tune you could jump to as you travelled the campus' Ring Road.
The one constant throughout the varied moods invoked was that the playing was excellent. The leading players were Gay Magnus and David Aarons, both of whom have years of experience in music as well as first-class honours degrees in the art. Other pannists were Krystle Stennett, Rory Mitchell, Mark Hylton and Bianca Welds.
As the long title suggests, the composers are all from the region: Lodovic Lamothe (Haiti); Magnus, Aarons and Eleanor Alberga (Jamaica); Leo Brouwer (Cuba); and Liam Teague, Lord Kitchner and Jit Samaroo (Trinidad and Tobago).
Delightful work
There was a special addition to the pan music programme. The evening also was used to launch the world premiere of a delightful work by Peter Ashbourne, a homage to the late Jamaican patriotic song composer, Clyde Hoyte. Ashbourne (on violin) led his ensemble The Pimento Players (Beatriz Pozuetta - violin, Ann McNamee - viola, and Emily Elliott - cello) in a four-minute arrangement of Hoyte's well known song O'er Our Blue Mountains.
(Read more: Jamaica Gleaner)
Pages