Blog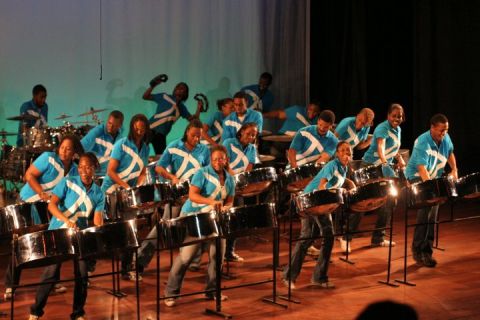 Everyone knows steelpan music is associated with soca, and though UWI Panoridim has a wide range of genres, we really do love to play our own mix of hit soca tunes. At a recent event where the band was jamming hard for an exclusive crowd, a band member made the observation that Palance is the ultimate soca song for steelbands. Why? Well the song itself has the right mix of everything you want in a soca song: a hype beat, a catchy tune, and the requisite instruction of a dance move that soca songs are known for. But Palance is unique in that an entire steelband can actually execute the dance while playing, a fact which Panoridim has proved over and over again.
Who knows when a song like that will come again in the near future. So for now, make sure to catch us 'palancing when we on di road'!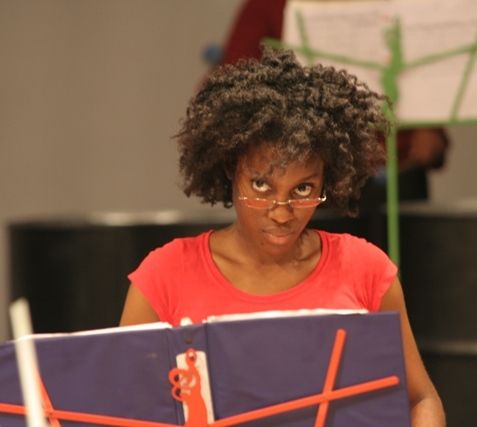 Music theory is an important part of mastering music on any instrument. The band has made a shift over its 30+ years from teaching by ear (that is, having the arranger play his pan and say the notes that should be played) to issuing sheet music (scores) to sections for them to learn the music from the paper. Almost all Panoridim arrangers now arrange and teach through the latter method, and music stands and scores have now become standard fare in the panyard. This means that more and more pannists need to be familiar with musical notation and music reading in order to keep up with the fast pace of the arranger's teaching.
Formal sections of practice started being dedicated to fun learning of music theory fundamentals in the first semester of 2010 through the (then) music director, Keiran King. Current music directors Aleiya Virgo-Herron and Gay Magnus have maintained tid-bits of music theory during rehearsals since then, and have now dedicated part of Saturday rehearsals to sight reading practice and interesting musical experiments, which engages all levels of players.
Feel free to pass by the Panyard on Saturdays at 6pm to hear the progress of the band as they play their music straight from the score.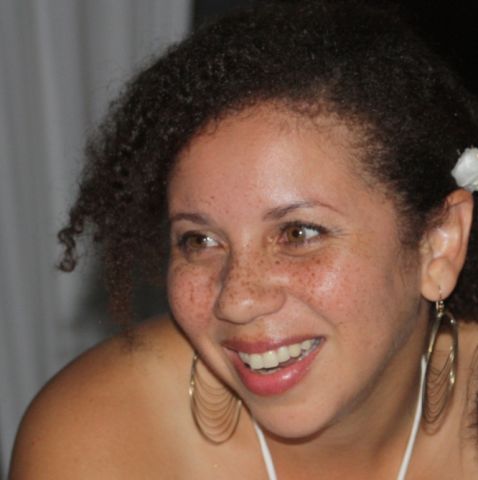 Bianca Welds joined UWI Panoridim in 1995 as a cello player and has been an active member of the band since then, staying involved in band life even during her studies in the US. She has served on the executive for many years and has captained the band through 2003-2004, 2005-2007, and 2009-2010.
Known for her ability to play any pan in the panyard, Bianca has played on almost all sections for concerts when the need arose. She has been an integral part of the cello section for many years, sometimes holding the forte as the only cello. She has served as section leader and the main teacher for cello, and also as section leader and teacher for the tenor section.
B, as she is affectionately called, moved from player to arranger in 2000 when she arranged 'Little Fugue in G Minor', a quartet piece that was chosen for Panfest 2000 and subsequently entered in the World Steelband Festival in Trinidad. The arrangement, played by Bianca on tenor along with Diallo Dixon [seconds], Raisha Lovindeer [double tenor], and Keisha McDonnough [cello] won the Bronze trophy, with a mere 2-point difference from the Silver winner. Since then, B has arranged 4 more pieces for the band, 3 of which have been performed in other concerts.
In 2012, Bianca will move from active membership to take another step in her musical journey. She reminds us in her statement to the band, 'once a member, always a member' and so she will never be far away.
A bit more of B
Pans played in concert: tenor, seconds, cello, tenor bass
Awards won: UWI Award for Outstanding Performance in Culture, UWI Award for Excellence in Culture, numerous Panny Awards and Lyme awards
Festivals competed in: World Steelband Festival 2000, World Steelband Festival 2004
Songs arranged: Little Fugue in G Minor, Battle Zone, Calling Meh, The Lazy Song, Pata Pata
Pages